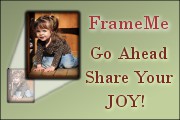 So, FrameMe is my first attempt at programming for android. Well, my first attempt at java as well. Regardless, I am pleased with the outcome and hope you will be also. As a father of four, I always like keeping a photo of my kids handy. The gallery is nice, but not for a quick, "Have you seen my daughter recently" situation. So I went to the market… Surprisingly I didn't find much. At least not much that did what I wanted. So, here is what I wanted and what I currently have.
Features:
1×1, 1×2, 2×1, 2×2 Widgets
Full screen image when clicked
multiple widgets supported
Selectable picture frames
Crop image when selecting
Full widget preview on your background during configuration
Click on one widget – Fling to the others
Click on widget and fling through images in user selected directory
Timed rotation of widget image in directory mode
Reconfigure existing widgets
Screenshots:
Current Frames:




















Issues:
Test it out and let me know if you find something else.
ToDo's:
Add additional frames
Add better support for hdpi devices. Need something to test with though.
As you can see it is pretty simple and straight forward. For me, it also does the job well. I have other ideas for it, feature wise as well as new frames. I am hoping to have time to implement them. However, I do have four kids so we will see. If there is interest, I might throw it into the market as well. For now, you can download it from the market or scan the QRCode to the left.